Sunday Worship
Our family worship services begin at 10:00 a.m. on Sunday (Special and Holiday services often start at 11 a.m.).
For Children
The first half of our service offers a simple lesson inspired by a reading from The Word (Bible) aimed toward children (and the child in all of us) - sometimes visual aids or enactments will take place to engage our senses more fully. Simple projects, related to our lesson, are sometimes offered for the children to do during Sunday school (when Sunday School is active) or at home (when watching online). A prayer and benediction for the children ends this portion of our service, followed by a hymn and interlude. Families that are present take their young children out during the interlude to work on their projects and/or play. This is a good time for our parents at home to encourage their children to do the project (usually all you need is a piece of paper and something to draw with). When a child is allowed to creatively engage their mind with the stories from The Word, the Lord's angels are more present with them and their affections for the Lord and His goodness remain longer. These memories can be accessed for the rest of their lives!
For Adults
For the second half of our service our talk is directed toward a more adult mind. Often the initial lesson is deepened in scope and/or a new spiritual understanding is put forward. The second half seeks to challenge us to make positive spiritual change and recognize the Lord's hand in that change. The service ends with a prayer and benediction followed by a prelude. If you stick around the pastor will announce upcoming events, cheer on anniversaries, and respond to comments from those present and online comments from our YouTube channel during discussion time. Other announcements can be made afterward in our assembly hall where fellowship is shared alongside light refreshments. Everyone is invited to join this gathering.
We rotate between our traditional and contemporary worship spaces in order to serve people with different tastes on their different paths. For our younger (and older) participants, it helps raise them with a knowledge and comfort in different houses of worship, and that the Lord is present in all of them!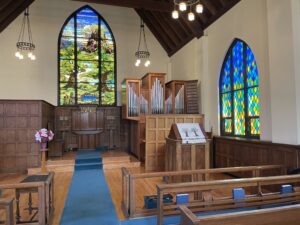 The Sanctuary
(through our assembly hall and to the right)
In our sanctuary we have classic wooden pews, multi-colored stain glass windows, a magnificent organ, and a beautiful featured stain glass window above our Word. Our pastors wear robes during services here and the organ is played for the vast majority of all accompanied music pieces.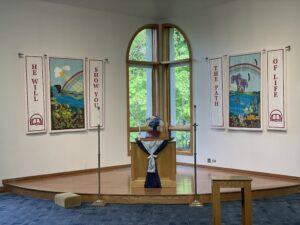 The Auditorium
(through our assembly hall and to the left)
Our auditorium space is a large room with a high ceiling and a newly carpeted floor. Individual cushioned chairs make up our "pews" and large clear windows allow you to look out over our Word to the nature outside. Usually, our music team gets together to provide new musical pieces and featured songs. A fine and well tuned baby grand piano is played during much of our hymns and accompanying music.
Online Worship Services
If you're unable to join us for worship in person, you can always worship with us online. All of our services are livestreamed. There are many different houses of worship - yours can be one of them. The Lord is present with us always, in order to feel His presence, we merely need to invite Him in.
Sunday School and our infant care room
Sunday School offers children a fun, social environment in which to learn the stories of the Bible and grow their affection for the Lord. Sunday School is not always offered. If you would like your child to take part in our Sunday School programming please reach out to one of our pastor's, Mark Pendleton or Elmo Acton.
Different levels of programming are offered to children of different ages when there is interest.
For children under four we have a windowed infant care room with toys, a sink, and comfortable furniture behind our auditorium. This room has a speaker in it (that is volume controlled and can be turned on or off) so the parent or caregiver can continue to listen to the service while their child plays,
Children from kindergarten through third grade are invited to join a Sunday School class. These classes include a lesson and some sort of creative project, and are taught by the Sunday School coordinators or a volunteer parent.
Children from fourth through eighth grade are invited to join in our school book room, and there be lead by a coordinator or volunteer in activities and discussion around a Bible story.
Teens in ninth grade and above are encouraged to remain in church for the adult portion of the service. Once a month we hold a high school class (held at the same time as Sunday School) on age appropriate spiritual topics if requested.